Wow, a busy few days. Sat­ur­day we had break­fast in Michi­gan, lunch in Wis­con­sin, and din­ner in South Dako­ta. The point of the first few days of the trip was to get out West as soon as pos­si­ble, and we aver­aged 475 miles a day for those first five days. Yes­ter­day we spent the whole day in South Dako­ta, and we'll be here all day today, too. But this is going to be a some­what lengthy post, as I catch up to this morning.
When I left off Fri­day morn­ing, we were in Wells State Park in Michi­gan, our sec­ond night in the Wolver­ine State. The first night we got severe rain, and the sec­ond night we got a plague of mos­qui­toes. Appar­ent­ly, Lake Michi­gan itself is still far too cold for use by humans; we prob­a­bly spent 6 hours dri­ving along the lakeshore, and in all that time we saw only one boat. It appeared that nobody uses the lake. We didn't see any ship­ping either. All the peo­ple we met were nice, but we want­ed to get going to the West, so at 7:30 a.m. Sat­ur­day morn­ing we were on the road, head­ed through Wisconsin.
In Wis­con­sin, it turned out that Green Bay had the worst stretch of road of the trip so far, by a good mar­gin: I-41 South is a mess. But we final­ly got on High­way 21 all the way to Tom­ah, and that was a pleas­ant dri­ve. We had orig­i­nal­ly planned to spend Sat­ur­day night at Great Riv­er Bluffs State Park in Min­neso­ta, on the Mis­sis­sip­pi Riv­er, but when we got there it was only 1:30 in the after­noon. After some dis­cus­sion, we decid­ed to push on, and we spent anoth­er four hours book­ing through Min­neso­ta, and land­ed just over the bor­der in Bran­don, South Dako­ta. That was a long, hard after­noon of dri­ving, but if we had spent those four hours kick­ing back in camp in Great Riv­er Bluffs, we still would have had to dri­ve across Min­neso­ta on Sunday.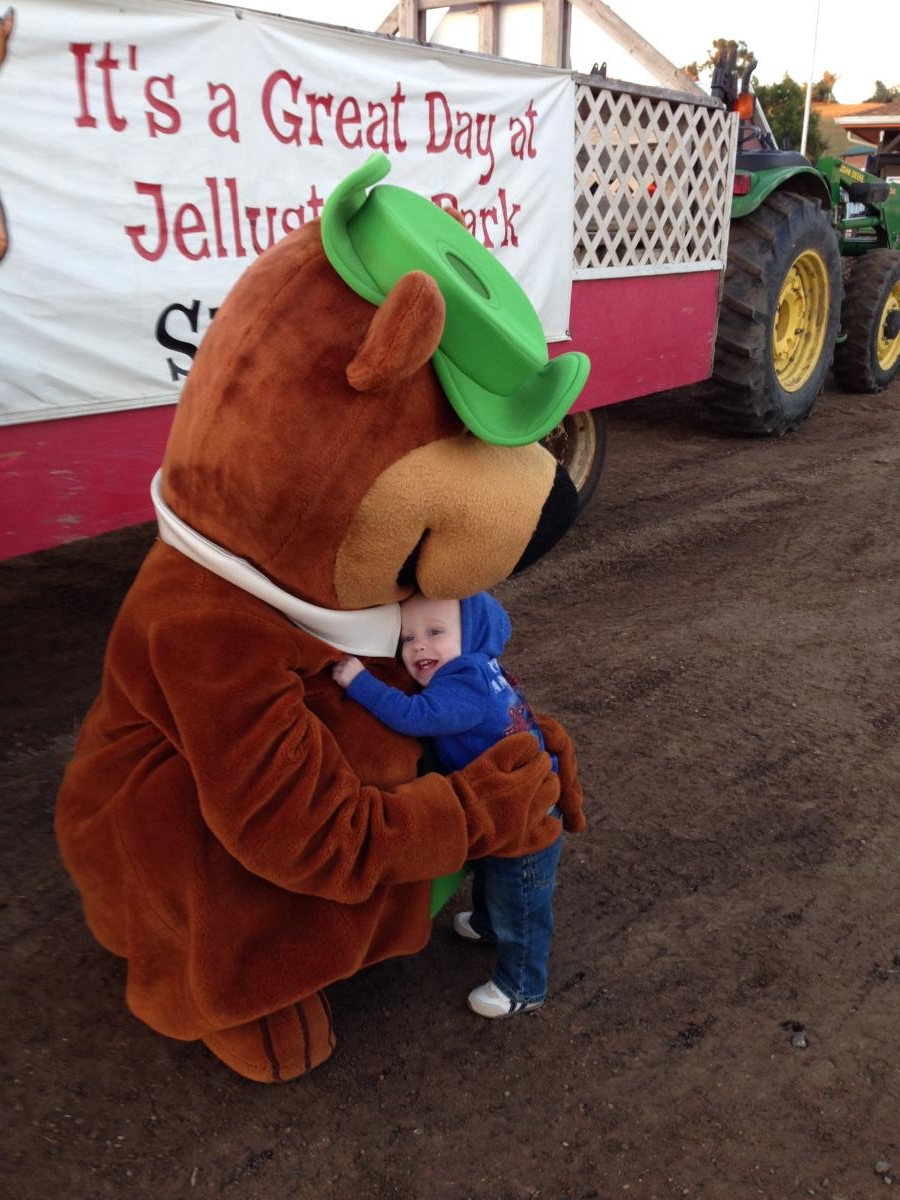 In Bran­don we found a camp­site right off I-90 that was … umm … unique. It was Yogi Bear's Jelly­stone Park, a "theme" camp­site with hun­dreds of kids, cos­tumed char­ac­ters from the Yogi car­toons (I'm old enough to remem­ber when they were new) and a tiny lit­tle camp­site right by the inter­state so you could lis­ten to the big rigs rolling by all night long. But it had every­thing we need­ed, since we only stayed there about 12 hours total.
We hit the high­way ear­ly again yes­ter­day, and by about noon we were in the Bad­lands Nation­al Park. The Bad­lands are one of my favorite places, and they were par­tic­u­lar­ly bad yes­ter­day. Uncle (my broth­er) John and I went there in the late '70s, and it hasn't changed much since then. One minute you're in South Dako­ta farm­land and prarie, which looks like this:
The next minute, the land­scape has changed so much it's almost unbelievable.
We did some hik­ing and got some pho­tos of the ter­rain, and (under instruc­tions from their moth­er) a few pho­tos of William and Alex.
Not long after our hike, a few long­horn sheep walked up to the road and I got some great photos.
Uncle John and I also vis­it­ed the Black Hills of South Dako­ta on that trip. Unlike the Bad­lands, that area has changed enor­mous­ly since we were there. There's an awe­some amount of com­mer­cial devel­op­ment, just the sort of thing I love to avoid. Lit­tle vil­lages like Hill City and Custer are basi­cal­ly gigan­tic out­door malls now. The self-pro­mo­tion is ugly. After I saw lit­er­al­ly sev­er­al thou­sand bill­boards all across South Dako­ta adver­tis­ing some­thing called Rep­tile Gar­dens — and some­times more than a dozen bill­boards in a 1/4 mile stretch of high­way, you couldn't per­suade me to even slow down as we passed it. We'll see rep­tiles in Ari­zona and New Mex­i­co lat­er on in the trip.
Today we're at a love­ly moun­tain camp just a few miles west of Custer, SD. We're in the West, by gum. Yippee-ki-yay! We're fix­in' to spend the whole day in the Black Hills, and then tomor­row we're head­ed to Bighorn Nation­al For­est. We might vis­it Mt. Rush­more, but to be hon­est I wasn't ter­ri­bly impressed by Rush­more when John and I saw it. Sad­ly, they still haven't added Pres­i­dent Oba­ma. When they do that, maybe I'll come back lol.
For the record, we are not rough­ing it in our var­i­ous camp­sites. We have three cots and a tent that's 9′ x 12′ and tall enough for me to stand in with­out bend­ing over. Over the years I have become a mas­ter camp­site cook. Sat­ur­day night we had home­made chili with red and black beans, whole ker­nel corn and diced toma­toes; last night we had grilled pork roast with pep­per­corns and gar­lic, and but­tered lin­guine with Parme­san cheese. We're eat­ing like kings and enjoy­ing the lux­u­ry in this pri­vate camp. It has show­ers and laun­dry (we're ready for some laun­dry on our sixth day). They even deliv­ered fire­wood to our camp­site. You can't get that kind of ser­vice in a five-star hotel. Hotels sim­ply will not deliv­er fire­wood to your hotel room; I have no idea why not. The only thing we didn't have was some­one to turn down the cor­ner of our sleep­ing bags and put a lit­tle choco­late on our pil­lows, but we man­aged to sur­vive the depri­va­tion. I had a great Father's Day and I hope all you oth­er dads did too.
We had a big thun­der­storm last night. Of course, we stayed warm and dry in our tent, but the noise made it hard to sleep. Thanks, Obama.
Today the Sun came up and we're well-rest­ed. We have a whole day to play in the Black Hills. It doesn't get any bet­ter than this, yay!